Computational Example
Edit
Bounded Class Data Edit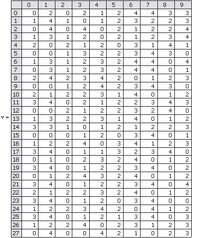 Bounded Class Dimensions Edit
G = 28 - 28 elements - i = 0...G-1[1]
C = 10 - 10 characteristics or attributes - j = 0...C-1
V = 5 - 5 valued logic - l = 0...V-1
Order of Elements
Edit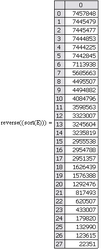 Squared Multiset Counts Summation Edit
Separatory Values
Edit


max(T) = 309 = S8 = highest initial separatory value
↑

Note that Mathcad was used in producing this computational example and that the Mathcad ORIGIN function applies to all arrays such that if one array requires a zero origin in a formula using both arrays that the other arrays are required to use a zero origin.
Ad blocker interference detected!
Wikia is a free-to-use site that makes money from advertising. We have a modified experience for viewers using ad blockers

Wikia is not accessible if you've made further modifications. Remove the custom ad blocker rule(s) and the page will load as expected.